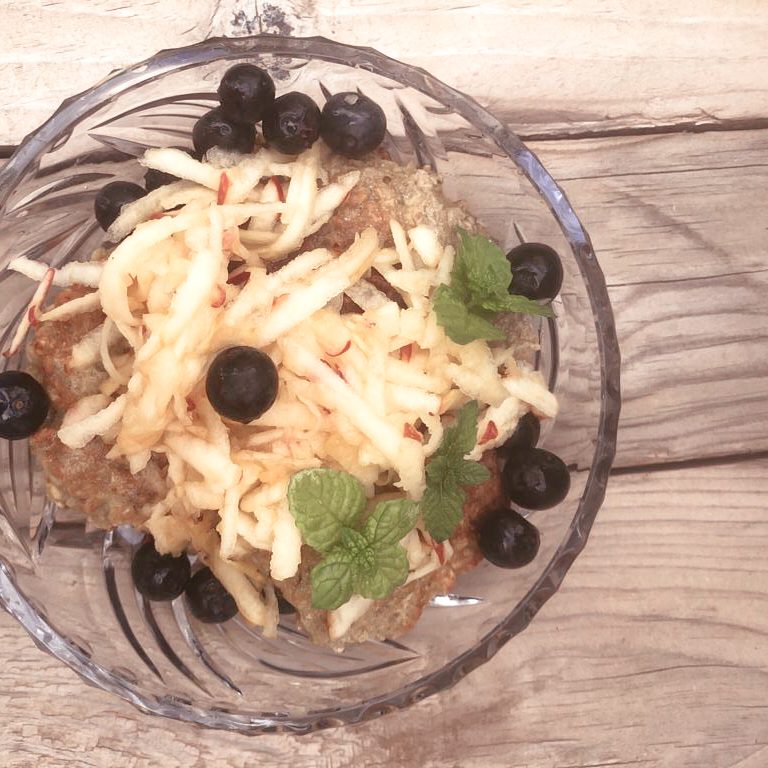 Serves: 3
You will need:
2x Eggs
One banana (the riper, the sweeter)
1dl Coarse oats
A handful of your favourite berries
1 Apple
1tsp of coconut oil
Option: cinnamon 
This is the most delicious breakfast, lunch or snack. It's quick, easy, nutritional and an absolute winner with my kids too!
To begin, blend the eggs and banana together until smooth. Then whisk in the oats by hand (don't blend it, as they will become too fine). Allow the mix to sit in the fridge for several hours or overnight, so the oats soak up most of the liquid and creating a firmer consistency.
To cook, add a teaspoon of coconut oil to a pan on medium heat.
Take a big tablespoon full (for one pancake) on the pan and flatten it out so it's about 1cm thick and 8cm in diameter. Repeat until you run out of pan space and allow them to fry for a few minutes on each side until golden.
If you are making a larger batch, you can store them on a plate in a warm oven whilst the next batch are in the pan, to keep them warm. Although they can go a little soggy by doing this, so I suggest not to do this for too long.
Serve with freshly grated apple (it's a lovely sweetener and good alternative to honey) and top with your favourite berries. I tend to choose blueberries as they are packed with antioxidants. I also like to sprinkle some cinnamon on top.
I often make this mix up for several days in advance, then fry them in the mornings as the 'pancake dough' will last for several days in the fridge.